In the last post we gave you an in-depth look at Nokia's cancelled smartwatch, codename "Moonraker", running the pre-installed firmware. It offered a pretty good experience but it was clear that it was a pretty early version. The companion app (codename "Q") has a tempting firmware update button and after a bit of hesitation, we decided to give it a go. We expected the app to throw an error, or if it'd actually flash, to brick our watch, but to our surprise it worked! Let's have an exclusive look at one of the last firmwares ever made for Moonraker.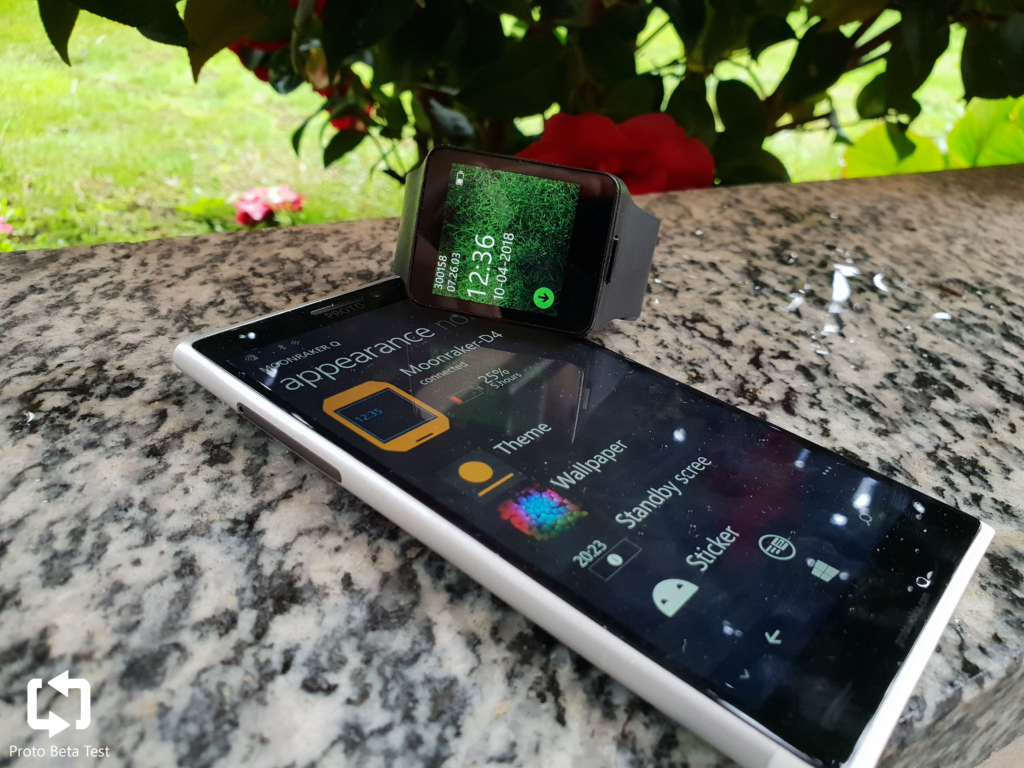 The update process
First of all, sorry for the picture quality, but since we didn't expect it to work, we didn't have any fancy camera equipment ready. As you probably know, we're pretty curious about how everything works, so before starting, we had a look at the firmware update. The firmware update itself is a .dfu file that weights around 3.50 mb created on Jun 30 2014 at 16:13:37, it took around 5 minutes to install successfully and the update process itself is divided in 3 main phases.
After tapping on the "update firmware" button, the app starts sending the update to the watch, splitting it up into many small packets, each 1Kb (

~

3500 packets in total).
Once all packets got transferred successfully, the watch reboots to a black screen with just a progress bar that shows the progress of the unpacking of the update files.
Once unpacked, the watch reboots once again to an "Installing" screen and starts applying the update. Finally, after that's done, the watch reboots and is ready to use!
The update installed version 07.26.03, quite a big jump from 07.22.05.wk22.
What's changed
Home screen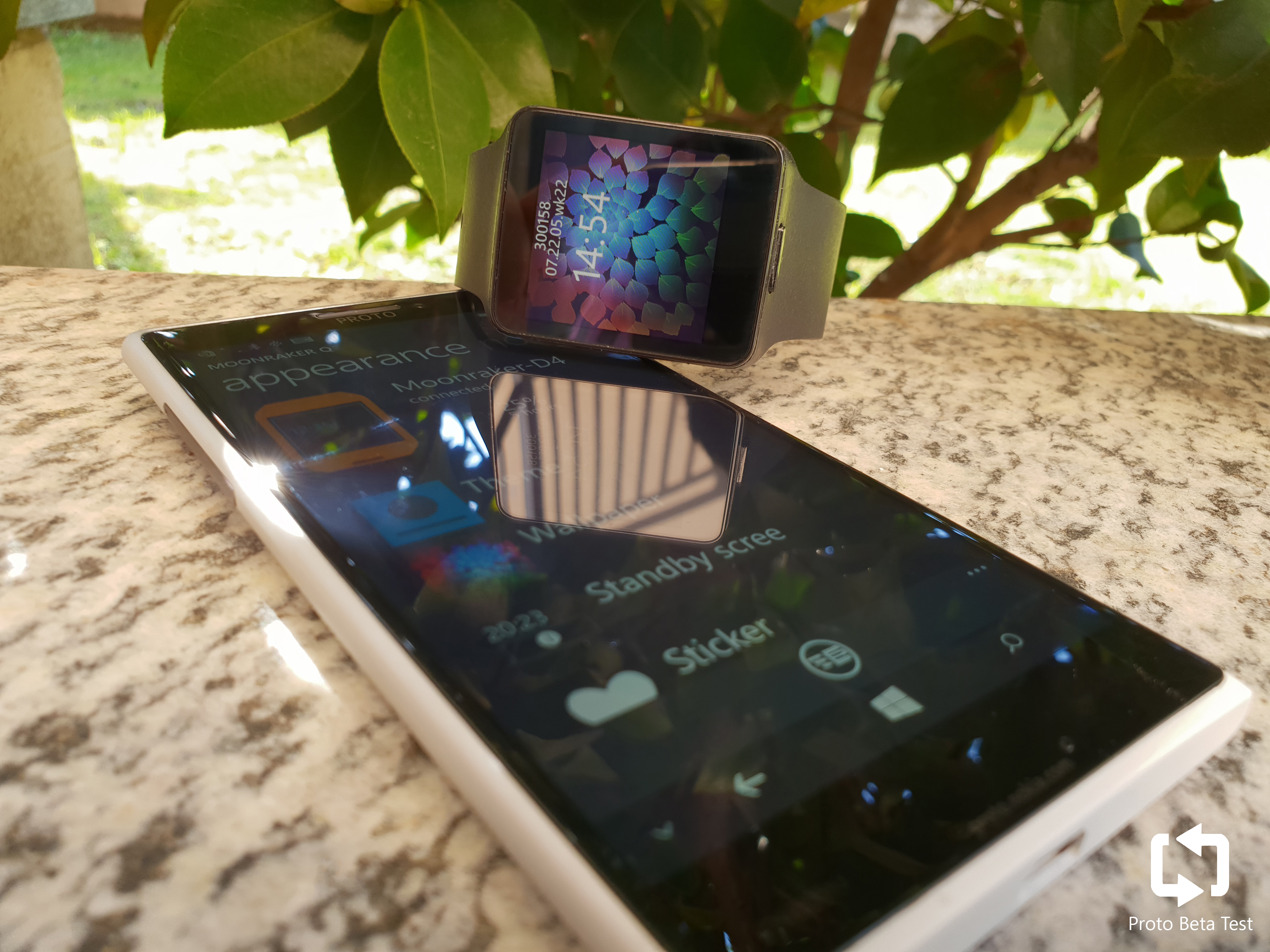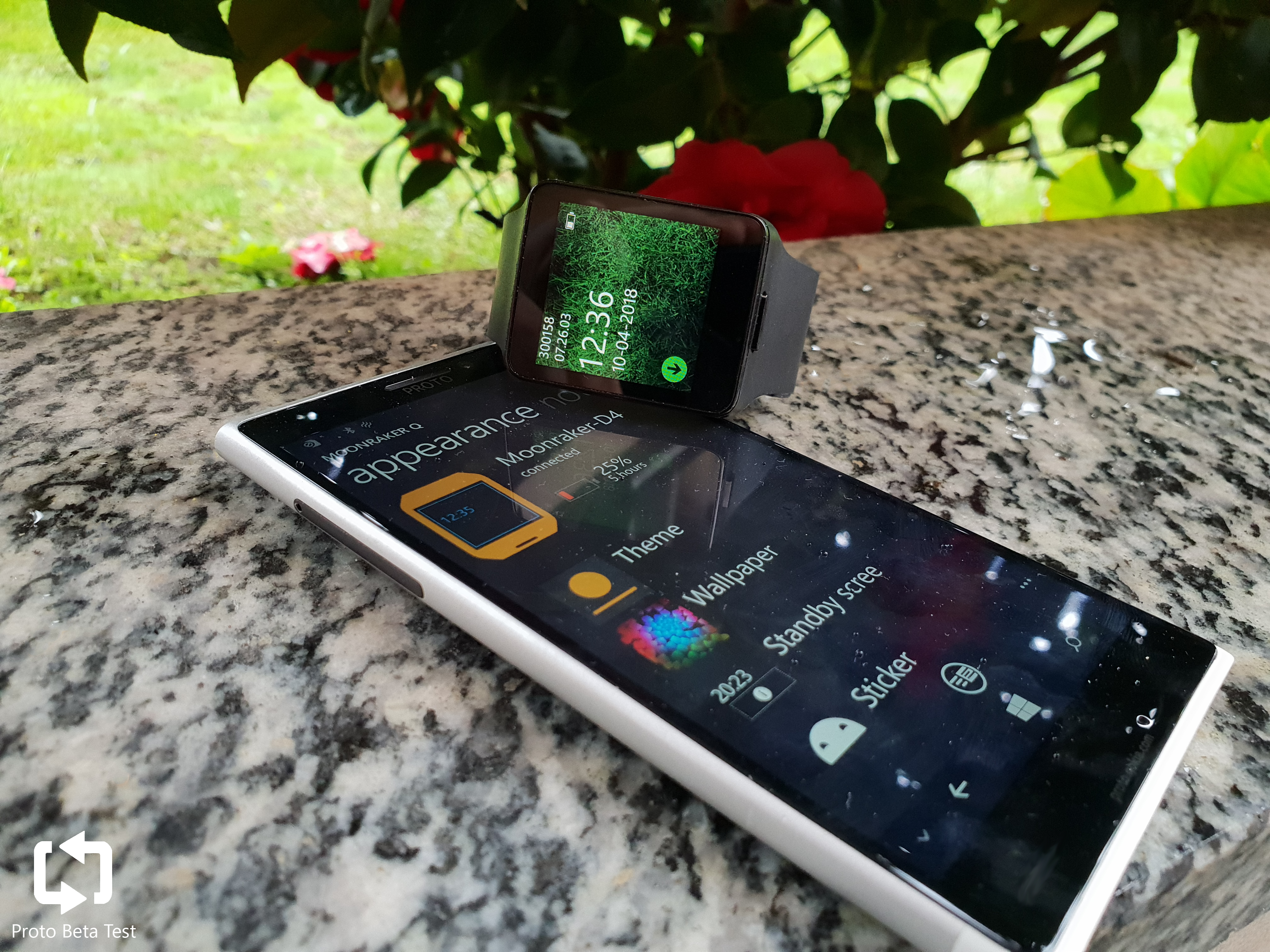 In this new version, the home screen layout was revisited a bit. The time and the current firmware version are now aligned to the left and one of our small complaints got addressed, with the current date and battery level now being present. Sadly an exact battery percentage is still missing but it's a welcome improvement nonetheless. The green arrow in the bottom left corner notifies of unread notifications and provides a quick way to clear them all.
The default wallpaper has been changed too. In the pictures above, you can see the default wallpaper for each firmware.
Interface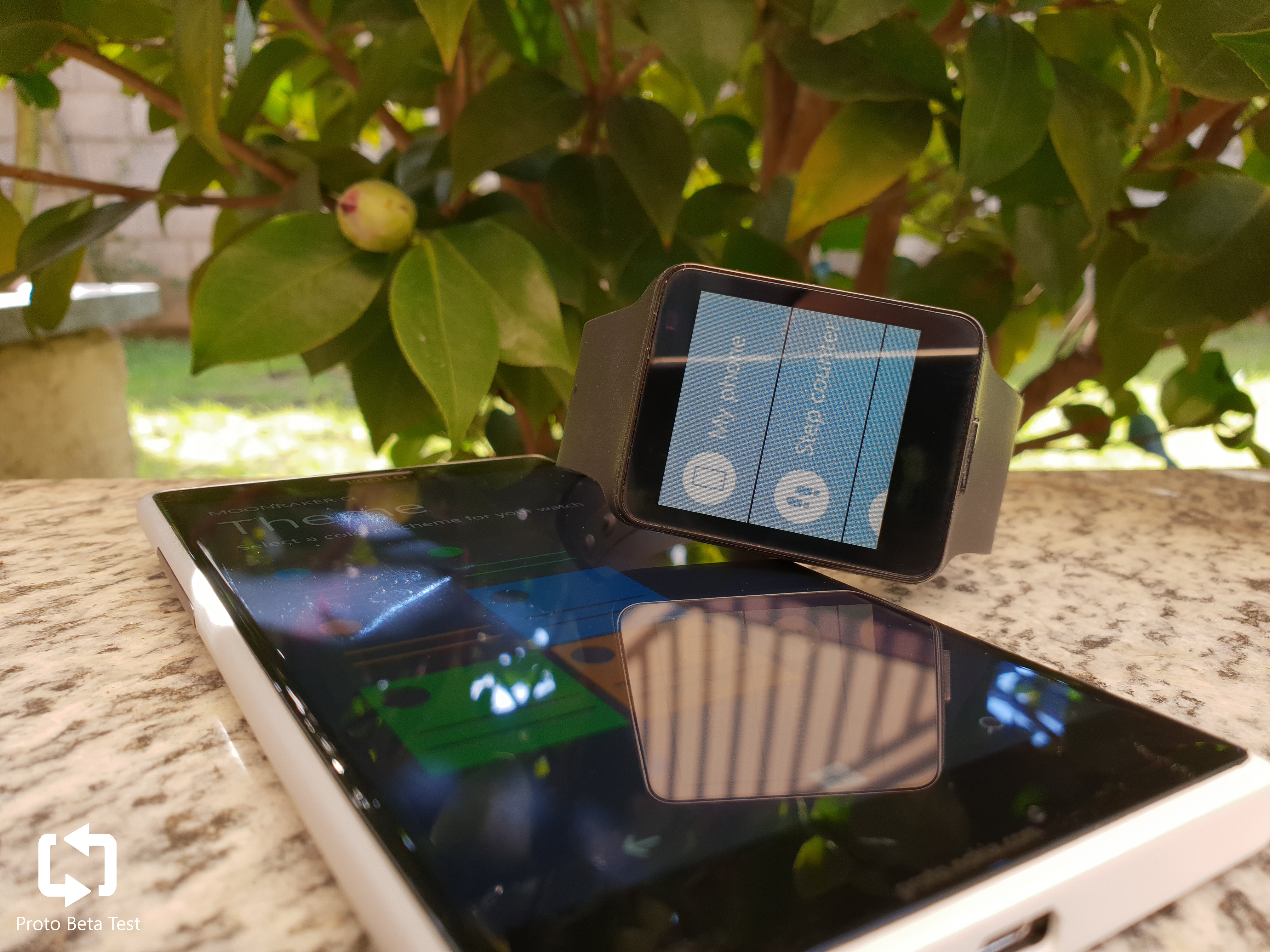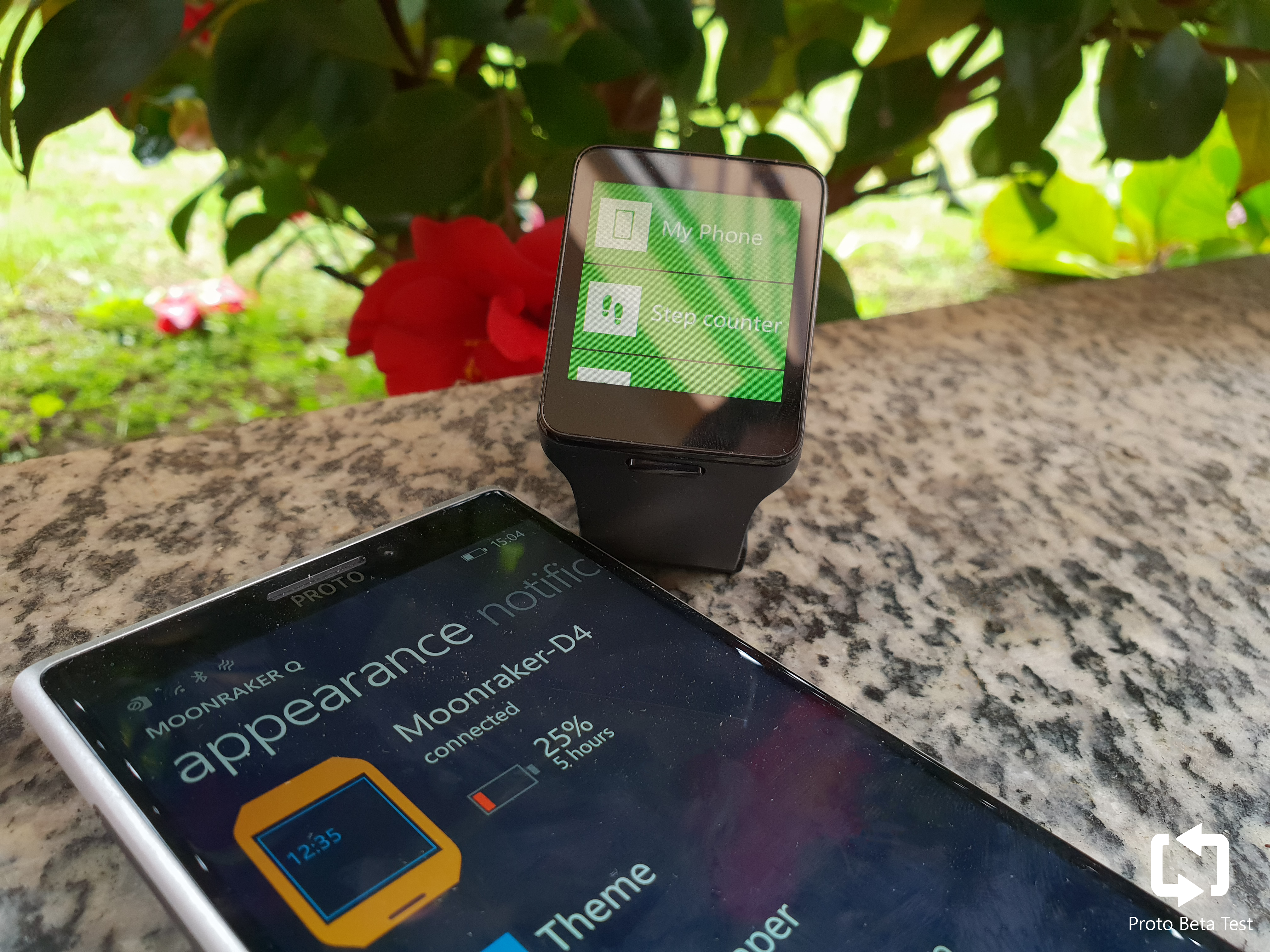 That's far from all in terms of updates to Moonraker's UI though! The updated version features "real" squared tiles instead of rounded ones, making the whole UI more consistent. Other minor changes are mostly bug fixes in the notification section.
There is now a new interface for the low battery notification even though the exact percentage is still absent even here.
Apps
In this update basically every app has been updated, introducing new features that are directly accessible from your wrist. Let's have a look!
Phone
If you remember from the our last post, the "My Phone" app on the watch just had a single button to make the paired phone ring, in order to find it if lost. In this new update, it now features a new tab accessible by swiping up on its main page that displays some basic info about the phone like battery percentage and the current ringer mode. Swiping left or right on the app "tile" (that's now able to expand into a sort of live tile) enables or disables the phone ringer, akin to how other OS' have app specific quick actions too. (e.g. Android, iOS)
When receiving a call, Moonraker vibrates and shows a call UI with info about the caller and two buttons. The "Bell" button turns off the vibrations, while the "Message" button shows a list of quick replies and rejects the call. Sadly this particular feature doesn't work correctly yet in this version.
Although it's probably still incomplete even after the update, it's now clear that this app was meant to be a hub where you could quickly check the status of the phone and change some basic settings.
Step counter
The "Step counter" app received some quite big changes. It now features a nice new icon and a completely different UI that is now more complete and eye-catching. Another really interesting change is a new section that lets you create a personal profile by adding info like height, weight, age, sex, etc. in order to receive more accurate results (but these settings don't appear to be saved yet). Although the app features quick actions to switch between a "Calories view" and a "Steps view", it sadly doesn't appear to be implemented yet.
Music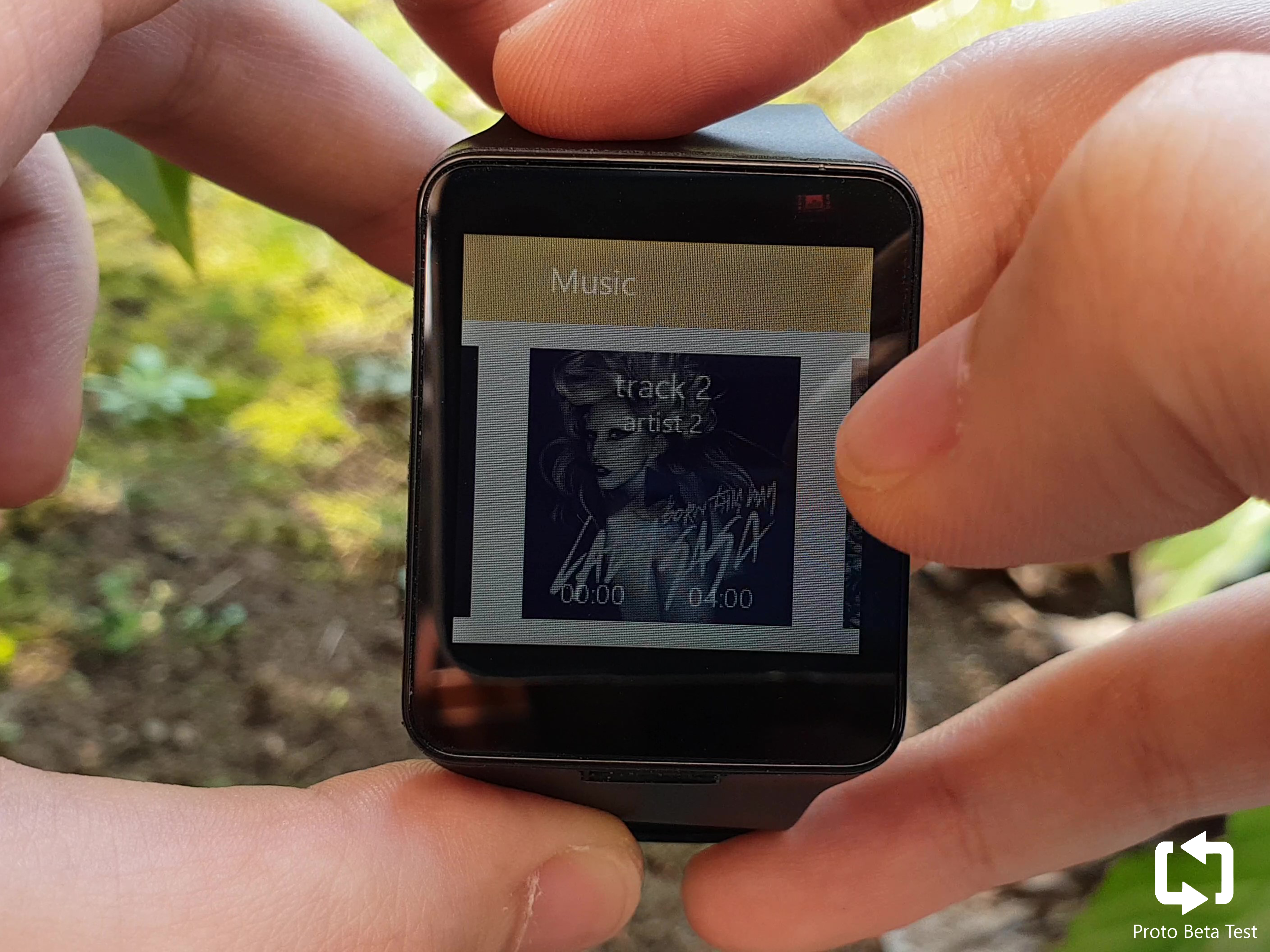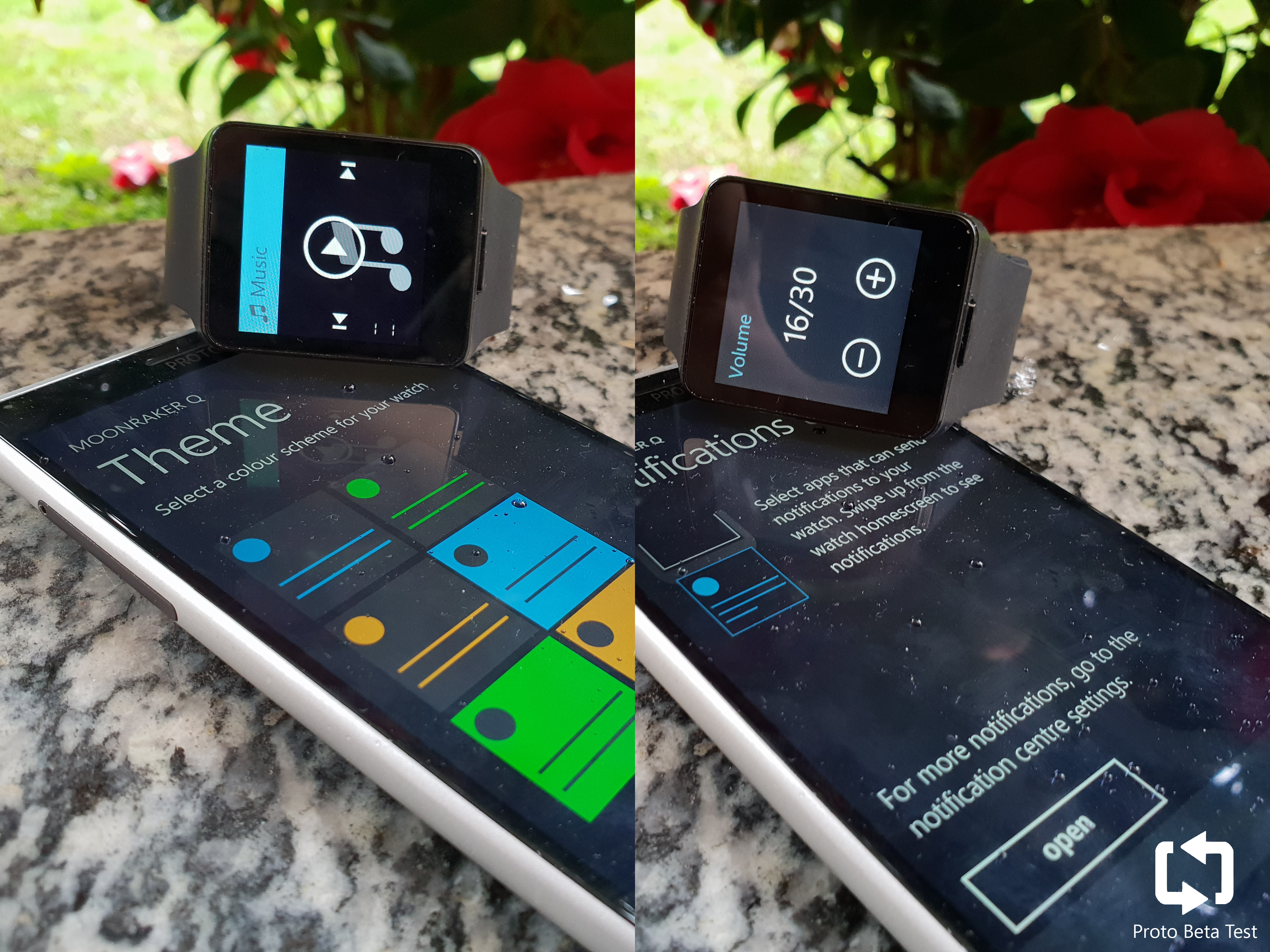 The music app received a complete redesign. It's now a real player instead of a list of 3 fake songs like before. It can play/pause the current song and obviously skip to the next track but sadly music controls don't appear to be working yet. Swiping up lets you change the phone media audio level. Swiping left or right on the tile is now a quick way to play or pause the music.
This is a really welcome update that makes the music app very useful to quickly manage music without taking the phone out of the pocket. If only we weren't talking about a cancelled product… Sigh.
Remote camera
This new firmware comes with a new app called "Remote Camera" and it's quite a mystery, as by default it does… nothing. We played around with the SDK test app and noticed that it replaced the pre-installed app with its own version that – when launched on the watch – launches the Moonraker app on the phone. So, what's the next logical thing to do? Dig through the app, obviously!
The app code reveals that the Moonraker Q app has a hidden camera view that can take screenshots of the watch interface or use the smartwatch as a remote shutter button. Sadly it doesn't appear to be working but we'll keep digging.
Notifications hubs
Notification hubs received some minor improvements too. They're now way more accurate than before and the "tile" displays all the main information at a glance. Tapping on it, shows a list of notifications and tries to launch them on the phone, but sadly this still doesn't work.
Glance watch faces
In the old software version, changing watch face from the app resulted in a tiny blue screen on the watch complaining about "illegal time". Well, this bug got fixed (Who'd want a watch that fails to show the time?) and we're now able to show you all 12 available watch faces, which you can find them in the gallery above.
Video
Conclusions
As I said in the previous post, Moonraker is everything I wanted in a smartwatch and now with this update I'm even more in love. It's not perfect, but the work was evidently progressing nice and quickly. We played with an internal test app that sent the notification you see above to the watch. Did Moonraker have a fan? Who knows. The only thing I'm sure is that Moonraker will be the only thing that will make me come back to use a Windows Phone device from time to time. Thanks Nokia.
What do you think about this update? Would you have liked to see the final product? Let us know in the comments below! If you enjoyed this post, consider the idea of supporting us with a donation to help us bring you more exclusives.